Melanie & Laura are doing a work out attire link up today and I am pretty excited!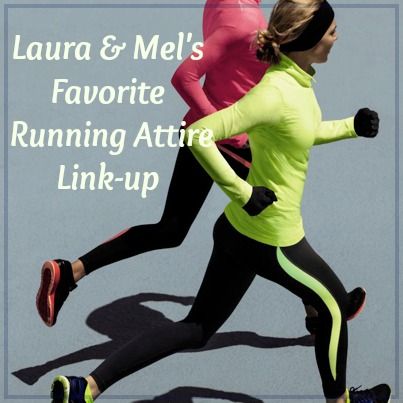 I was just doing some shopping for some new gear yesterday and didnt find anything I liked so I am excited to get some new ideas....
I have some great pieces already...
Like an older version of this
Nike Running Jacket
.
This thing keeps you WARM!
It has great pockets too.
I found it on clearance for $20 dollars!
It was a major deal!
But sadly... its pretty big on my now.
Its a size XL!
And I am fitting into alot of Mediums now...
So since its not as tight fitting, its gets airy and does not keep me as warm....
My brother and Sister n law bought me these awesome
Livestrong gloves
for Christmas.
They are pretty light weight but really do keep me warm.
And they do not make me all hot and want to rip them off after 15 minutes...
As for shirts I typically wear one of my 2
nike thermals
...
As for pants...
This is where I desperately am needing new ideas....
I have a couple pair of under armor running compression pants and then a few other pants I sometimes run in that are not compression.
As I am shrinking, I am needing smaller pants bc what I have keeps falling down for the first 20 minutes until I start sweating enough that they just stick to my body...
Or that they are too lose and not so compression-ie anymore.
I have this weird problem...
Since I was 12 or 13... my inside of my right leg goes NUMB!
It does it pretty much when I go from being warm, to being cold all of a sudden, and moving... aka working out.
And it goes numb to a point where I seriously cannot feel my knee bending.
I just have to keep trusting that my legs are doing what they usually do and are moving correctly!
It used to happen ALL THE TIME in soccer. I would be nice and warm in the car and then have to get outside in the cold and play...
My mom took me to the doctor for it...
He said without doing lots of tests.... his guess was it was either nerve damage or blood flow issues.
Then I started hearing all about "compression" and how it is supposed to help with blood flow...
And then I started noticing that I do not really have the problem when I am wearing my full length compression pants!
Compression capris... do not help.
They do not cover my calf area which also goes numb...
So... I will be spending the rest of my cold weather running days in running compression tights!
So... which do you suggest!?